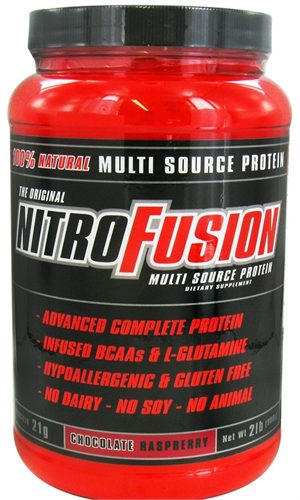 Nitro Fusion protein powder is the latest advancement in vegan and plant-based supplements. This product was spurred by the growing demand by athletes who were looking to improve their physical performance by using a clean, natural, and healthy organic protein supplement.
This multi-source protein supplement is derived entirely from plant-based sources. Nitro Fusion is known to contain the essential amino acids, more glutamine, and BCAA's per serving than any form of protein in the green foods industry. This gives Nitro Fusion powder a higher biological value and the protein efficiency proportion of almost any protein in the market. Due to this, Nitro is considered one of the best proteins that an individual can purchase.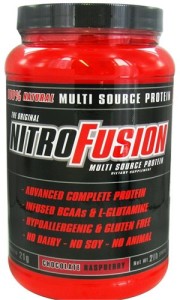 This product has the characteristics that the elite athletes desire to help them nourish their health, build muscles, and aid recovery after strenuous exercise.
Nitro Fusion protein comes highly recommend. Currently it has a 4.5 rating on Amazon (22 reviews at this moment).
People have said that Nitro is an amazing meal replacement that not only tastes good and comes in various flavors, but they also say that it's smooth and satisfying. People can easily expect to meet their daily protein requirements using this.
Benefits of Nitro Fusion Protein
The Fusion powder is known for packing a large amount of nutrients into each scoop. Its amino acid profile includes all the muscle building blocks body builders and athletes require. This sports supplement offers 25 grams of protein, 420 mg of sodium powder per serving. The source come from pea protein isolate, a brown rice protein concentrate as well as an artichoke protein.
An average serving of NF consists of 21 grams of protein. It's proprietary blend is made specifically for muscle aide and recovery. Free from typical allergens such as gluten, soy, dairy, and lactose, this supplement can work with almost anyone.
The company claims that this is a non-inflammatory product, which is a huge factor with all athletes. The organic and plants used in the product are slow-releasing. Unlike other proteins, this one takes longer to be burned up throughout the day, giving more support, longer, for those who want to build their fitness levels.
What's Inside this Protein Supplement
First, lets start with what is on the label:
120g calories
2g fats
390 mg sodium
60 mg of potassium
4g of total carbohydrates
4g of sugar
21g of protein
The ingredients contained in a pack of Nitro Fusion includes an amino acid blend of artichoke, pea protein isolate, organic and sprouted quinoa powder as well as amaranth powder. The amaranth powder offers the BCAA's such as the L-Isoleucine, L-Leucine,L Valine and the L-glutamine.
Also included in a serving is a proprietary blend of lots of naturally occurring enzymes, fructose, silica, stevia, glycine and natural vanilla flavor.